To start the year 2014, I'm going to tell you about a bike ride from 2nd September 2012.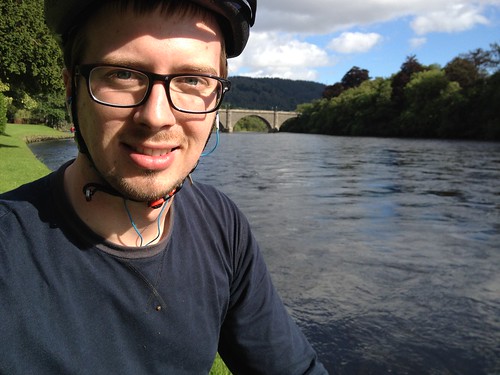 I'm disappointed to say that I've forgotten many of the details of that day. However, I created this post shortly after the ride, and put in place all of the photographs, maps and videos. Assembling the visual media is, after all, the time-consuming part of writing of post for this website, and I would feel bad letting that work sit in my drafts folder for eternity. All I need to do is fill in the text. Simple.
After having much fun riding west into the Earn valley, and then a longer ride east out to Invergowrie, I decided next to cycle northwards to Dunkeld. Here are some photos I took at the start of the ride, cycling through the North Inch: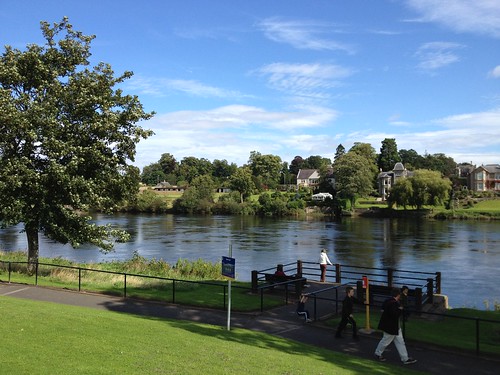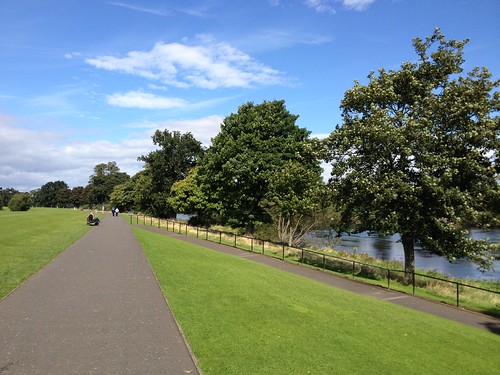 A beautiful day. I have some experience with riding north from Perth. I have cycled to the end of the North Inch many times: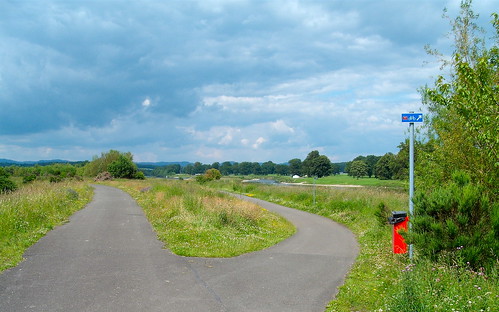 And I've often gone further along the River Almond – occasionally as far as Pitcairngreen (funny name):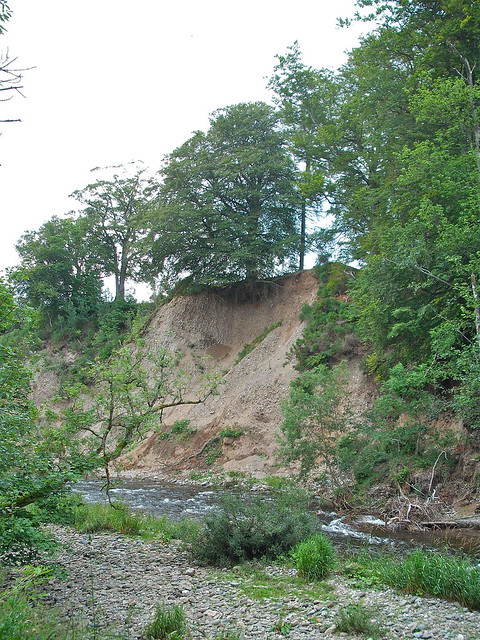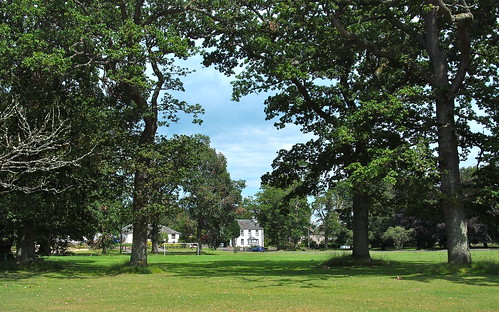 And I've made it all the way up to Dunkeld before, stopping to eat peas and raspberries and a melted Mars bar along the way: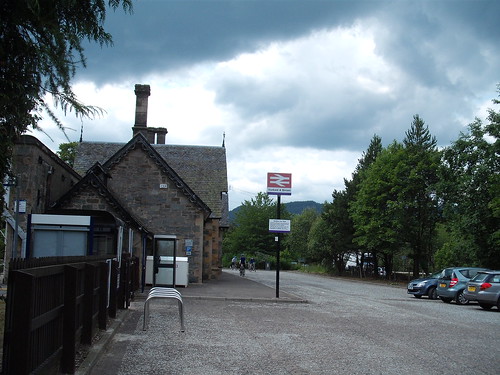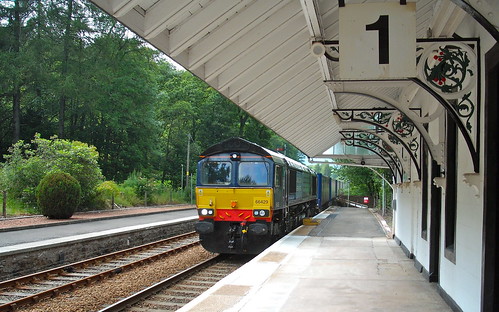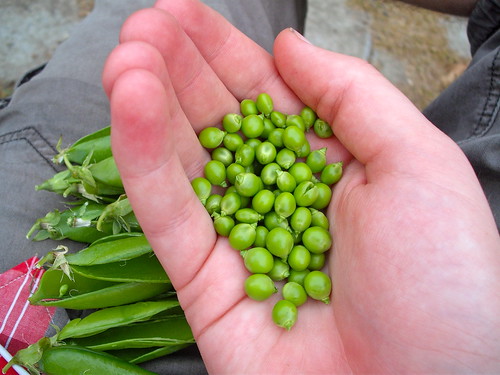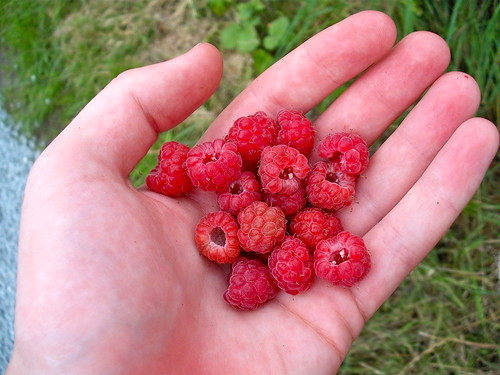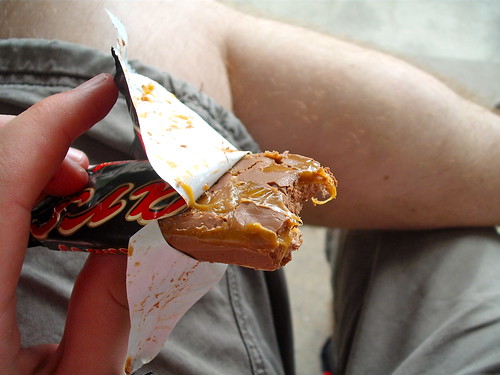 I really enjoyed my bike ride up to Dunkeld, and I've actually done the ride a few times, but I'd decided that the next time, I'd be a bit more adventurous. The ride from Perth to Dunkeld is part of National Cycle Network Route 77, which links Dundee with Pitlochry. Here is a National Cycle Network marker post at Dunkeld station: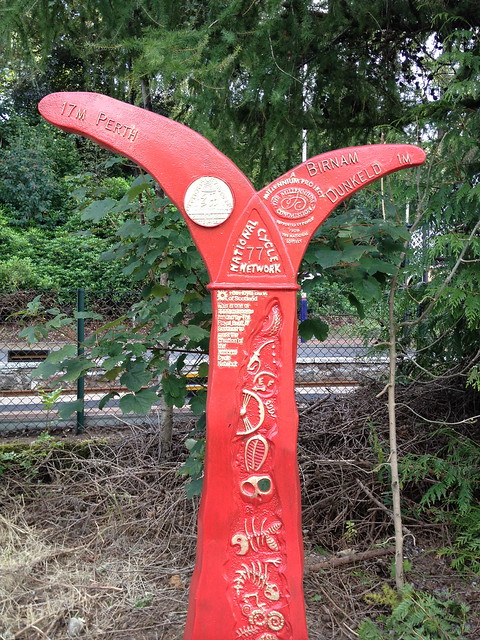 I had used Route 77 to reach Invergowrie on my previous ride, and I was using it again to get up to Dunkeld. I haven't cycled it beyond Dunkeld, but one day I intend to so, and reach Pitlochry.
Once you're off the River Almond, Route 77 is then almost entirely on-road to Dunkeld. It's not my prefered kind of cycle route, but most of the chosen roads are quiet lanes and I felt safe. However, if you want to go from Perth to Dunkeld and back on cycle routes, then you have to retrace your steps. Sometimes retracing your steps can be fine: climbs become drops, drops become climbs, corners swap, and you get a completely different view of your surroundings. But this is what I've done every time I've cycled to Dunkeld, so this time, I decided to take a different route back.
I enjoyed the ride up along route 77: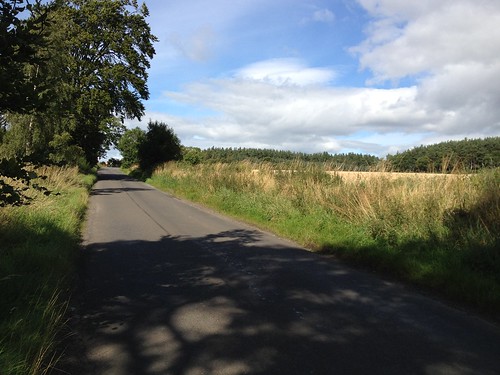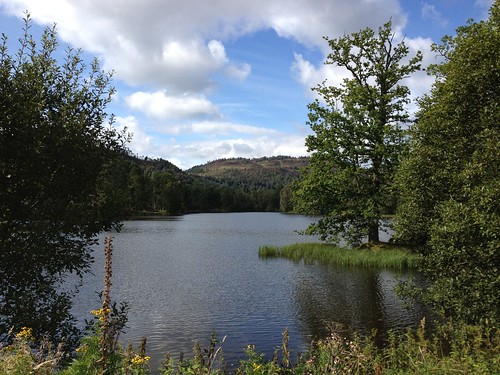 Eventually, I reached Dunkeld and Birnam railway station, which is maybe about half a mile from Dunkeld. Dunkeld is the first station north of Perth on the Highland Main Line, which joins Perth and Inverness. A lot of the line is single-track, which is one of the reasons that trains aren't very frequent, but I still usually see something (even freight trains sometimes).
I sat listening to the Clash of Kings audiobook, ate my lunch, and watched a train or two go by: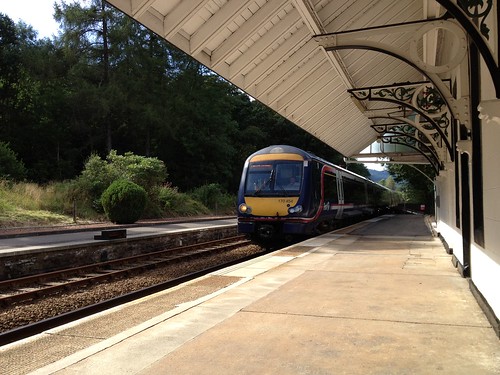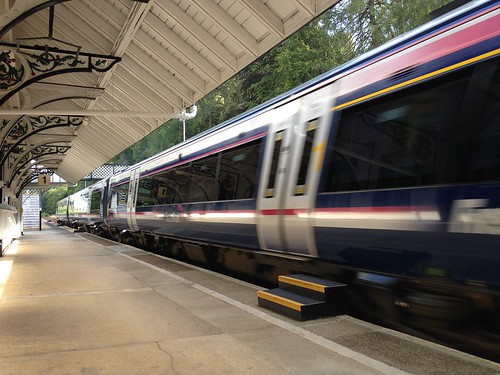 I then headed into Dunkeld itself, taking a seat in the grounds of the cathedral. This was the first time I'd cycled into Dunkeld before, since previously I would always head back after reaching the station. There isn't much to see in Dunkeld, but it's pleasant and I had a nice time cooling off by the River Tay: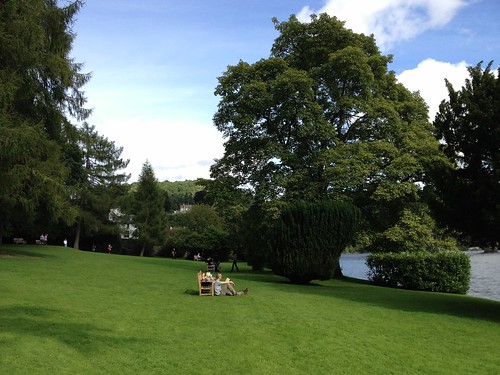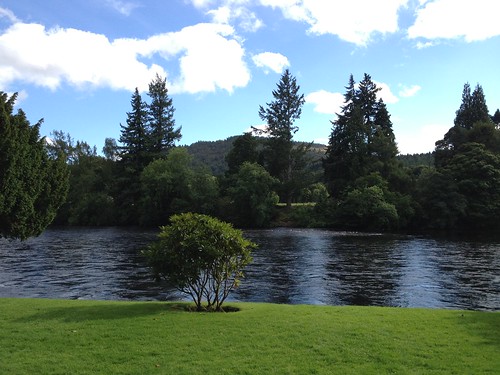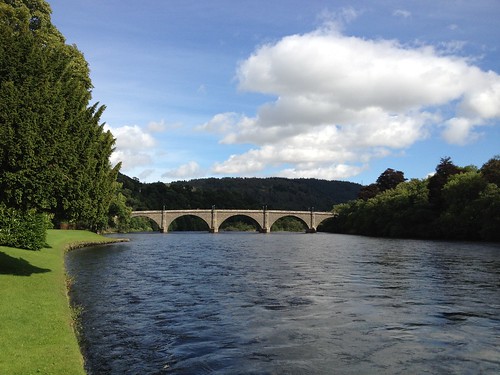 Here's a video which includes clips I shot at various places on the ride up:
After a short while, I decided to head home.
But I wasn't going back the way I came. After reading my post about cycling in the Earn valley, Murray left me a comment with a suggestion:
Have you done much cycling north of Perth? That tends to be the direction I went. The NCN route up to Dunkeld is actually rather nice, with a lovely big hill down to Dunkeld railway station. I like to take a little side trip, though, out to Little Glenshee, where there's a lovely ford that makes a nice place to stop for lunch, then the road takes you back in to Bankfoot.
Nice. Thank you Murray. And that's exactly what I did.
I cycled down to Bankfoot, and then instead of continuing south on Route 77, I diverted off to the west towards Little Glenshee. I wasn't exactly sure of the route, seeing as I'd never been there before, so now and then I got my iPhone out of my pocket, and loaded up Maps to see my location. I would have been fine without this assistance, but it was my first time cycling somewhere unknown whilst having a GPS-enabled device. It was pretty cool.
A couple of miles west of Bankfoot: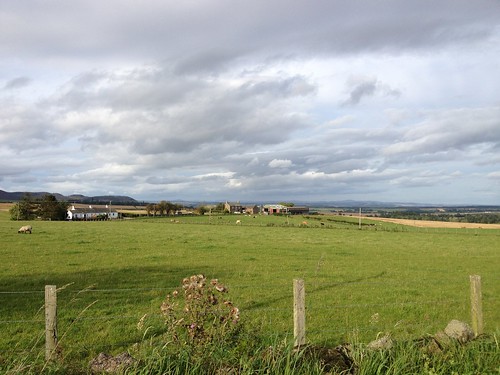 But something was strange. My bike was going really slowly. Unusually slow – apart from when I'm going down a big hill, I usually maintain a leisurely speed. This road seemed pretty level, and it wasn't because I was out of energy either: although I was probably approaching my 30th mile, the ride hadn't been particularly taxing. Perhaps I have a slow puncture, I thought, or perhaps something else is wrong with my bike mechanically, or maybe the wind is just stronger than I felt. I had to fight for every turn of the pedals, and yet my speed was a paltry 8mph. I was starting to get pissed off, because I was still about 10 miles from home, and if my bike was about to fail, I would have to walk the rest.
Until, that is, I got off my bike for a rest, and took out my camera to take some photographs. When I turned around to take the photograph you see below, I was shocked. I was looking downhill! It clearly looks like the road is going down here, which it was. I was ascending! That explains why it'd been such hard work for the past few miles.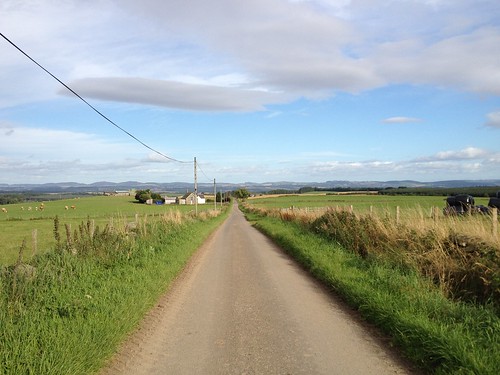 But when I turned around to look again in the direction of travel, the road again looked level. It was really disconcerting, but I believe I came up with the explanation. Just a couple of days before, I had picked up my new glasses, which had a new prescription in them, quite different from my old ones. I reckon that I simply hadn't got used to wearing them yet, and things looked a little weird.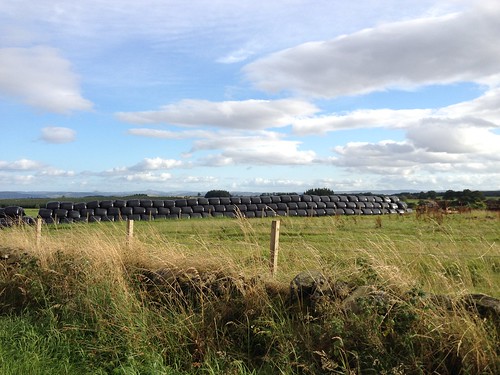 I continued my climb, now feeling good about all the height which I had gained, and which I would eventually get to reclaim as a part of a fun downhill section. I reckon I must have climbed at least 100m without realising it.
After a bit more climbing, I reached the ford at Little Glenshee. By this point I had no phone reception, so although I knew my co-ordinates, the map below those co-ordinates would not load. I was unsure if I would realise when I was there. But, well, I couldn't miss it: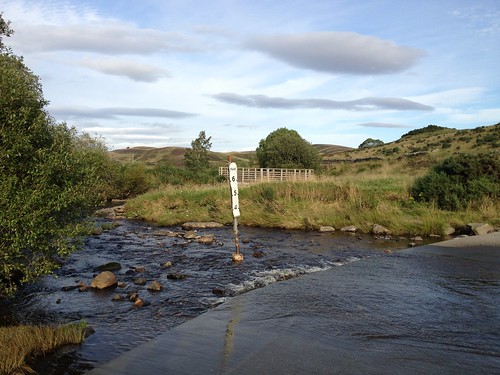 Murray was right. It was a delightful little ford. I cycled across the water, and sat on the grass verge in the centre-left of this photo: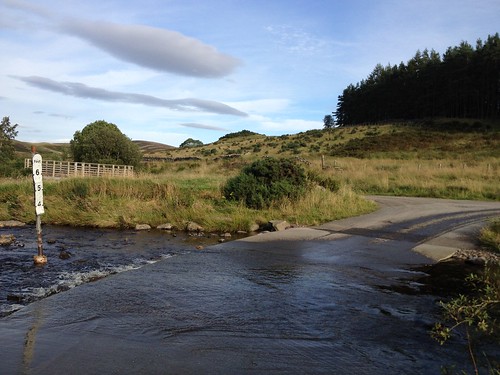 The view from my perch: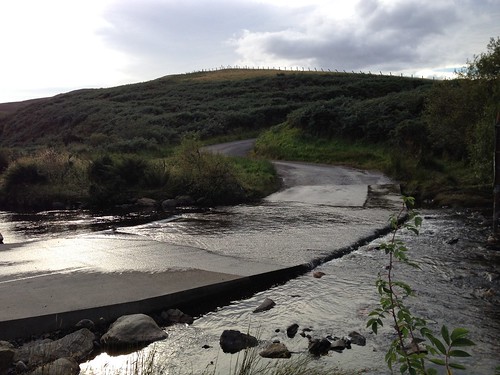 I sat there and drank a can of Dr Pepper, listening to more of "A Clash of Kings" (a Davos chapter, I think) but I fairly quickly got cold, and decided to head home. The route first involves yet more climbing – the ford is hidden somewhere at the bottom of the land you can see in the photo below: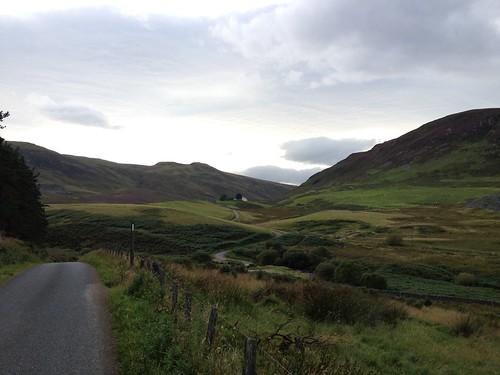 Once I'd done that little bit, though, the route was incredibly fun. For what must be 3 or 4 miles, the road is downhill all of the way. I reckon you could do that whole distance without pedalling once. It was really exhilarating.
At the start of the run down, before it really got going, I took my iPhone out of my pocket and filmed a section of my ride. I had to mute the sound since it was just the roaring of the wind, but I was picking up speed really quite fast – a huge change from the journey uphill. As you'll see in the video below, even at the point where I'm going uphill I'm still going about 15mph, and the speed with which I ascend shows the momentum I had from the descent.
It was a lot of fun.
Watch a video I took: Cycling near Little Glenshee from Wilf Wilson on Vimeo.
I stopped once on the descent to pick some wild raspberries by the side of the road, and I took this photo whilst still cycling, of these cows: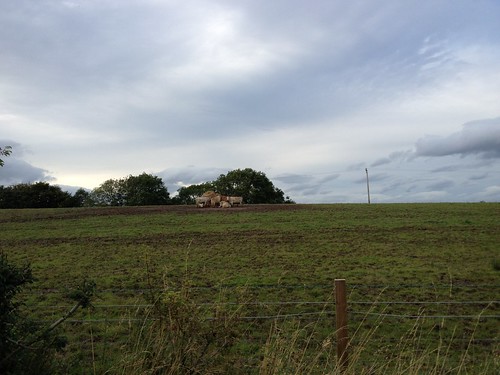 Eventually I re-joined Route 77, and continued my journey home, back the way I came. I arrived home to a meal of spaghetti bolognese cooked by my Mum, and shared with some extended family members.
It was a good ride, and I would love to get up to Little Glenshee again. The ride back down was particularly fantastic.
If you're interested, here is what my speedometer recorded on the ride:
46.7 miles! Nice.
Finally, here is a link to Google Maps of the route and took: https://goo.gl/maps/3w1IO.
And here I've embedded an image of the route (click to see a much larger image):