UPDATE: RAF Leuchars has lost its battle for survival. I'm deeply disappointed and saddened by this news.
I've lived close to the RAF station at Leuchars during the 9 months that I've been at university.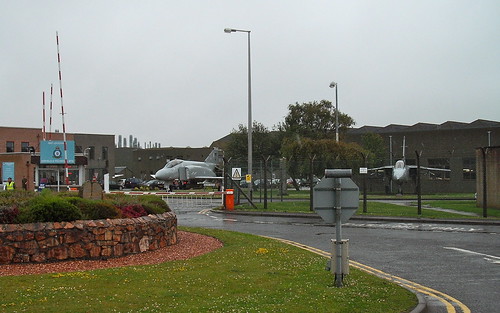 Leuchars is about 6 miles from St Andrews by road, but it's much closer as the crow flies – according to Wikipedia, "Leuchars [is] about 3.3 miles North West of St Andrews town centre". The eastern end of the runway, where landings and take-offs mostly happen, is barely a kilometre away from my favourite place in St Andrews, the far end of West Sands ((You'll often find me on that beach during term-time.)). And take my word for it: the runway is close enough that I've been woken by several reheat take-offs.
I've grown fond of it, and my interest in aeroplanes (especially military jets) has greatly increased ((Yes Murray, I like planes too! And trains.)) with my time spent watching it.
In February I wrote a minimalist entry about RAF Leuchars, starting with the line: "I hope it stays". I ended the entry with the sentence: "More on this later". Later is now, and the more is this entry.
Even before I moved to St Andrews, unbeknownst to me, doubts over the future of RAF Leuchars had already been circulating in the media. The BBC referenced the "background of uncertainty over the future of Scotland's three RAF bases" in a news item about the 2010 airshow ((It was a really good airshow. Tornado F3s, Typhoons, Tornado GR4s, Gripen, F-16s, Harrier, Vulcan, Red Arrows… Wow.)) that I recently discovered.
Once I'd settled into St Andrews life and enjoyed the planes a bit, I read up on the base and soon encountered the fears over its future.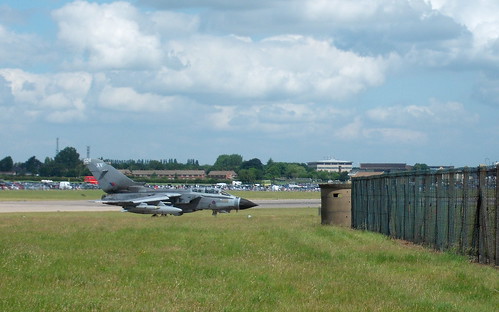 There are 3 RAF bases in Scotland. RAF Leuchars which is in Fife, and RAF Lossiemouth and RAF Kinloss in Moray, neighbouring bases on the northern coast, to the east of Inverness.
RAF Leuchars is primarily an air defence station of fighter jets, home to 6 Squadron ((Flying Eurofighter Typhoon FGR4s.)) which provides Quick Reaction Alert ((Intercepting unidentified/unauthorised/enemy planes from the UK's airspace, and responding to a 9/11-style attack.)) for the northern part of the UK. Some of its Typhoons were deployed to Libya, and they recently returned safely.
RAF Lossiemouth is a large base which is home to several Tornado GR4 squadrons, ground-attack aircraft, some of which are currently in service in Afghanistan and Libya.
RAF Kinloss had flown Nimrod MR2s until their retirement, and was due to be the home of the Nimrod MRA4 ((It's an interesting aircraft and I encourage you to read up about it.)), a newer "maritime patrol and attack aircraft".
After the general election in 2010, the Conservatives and Liberal Democrats formed their coalition government and very quickly commissioned the "Strategic Defence and Security Review", also known as the SDSR. The report was published on 19th October 2010, and the immediate casualty was RAF Kinloss. The Nimrod MRA4 programme was cancelled in the review, "at which point it was £789 million over-budget and over nine years late", according to Wikipedia. With no aircraft to operate, the air base was no longer required ((Although David Cameron didn't directly acknowledge this when announcing the cancellation of the MRA4.)):
RAF Kinloss is set to close after ministers cancelled orders for the new Nimrod as part of the UK government's defence review.

Nine of the MRA4 surveillance aircraft were due to be based in Moray.

RAF Kinloss station commander Group Captain James Johnston said there had been disbelief when the announcement was made.
Kinloss is out in the middle of nowhere, and the RAF is a large employer and the base a significant contributor to the local economy. Whilst nearby RAF Lossiemouth was unaffected by the announcements, the impact on the region of the job losses will still be great.
The same article also says:
The future of nearby RAF Lossiemouth, home to Tornado squadrons, remains uncertain.

It has been feared that the Tornado aircraft currently based at RAF Lossiemouth could be transferred to RAF Marham.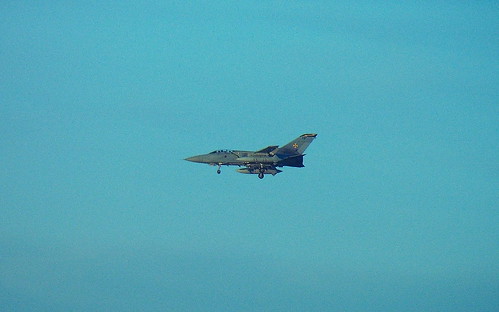 Kinloss wasn't the limit of the SDSR on the RAF. See: Future of the RAF. The Navy's and RAF's fleet of Harriers was completely withdrawn as well, despite being in active service in Afghanistan and the only plane suitable for use on aircraft carriers and with VTOL capability.
What's more, the SDSR did not include all of the cuts to the RAF. The MOD has a budget deficit, and either more funds needed to be raised or the services need to be cut in order to balance the books. The government decided that they want to close the gap, and they decided to do it by cutting the armed forces.
It was clear that more jobs would be cut ("Personnel will be reduced by 5,000 to 33,000") with changes to the structure of the RAF, and hence more squadrons would be disbanded and more bases closed. The word on the street ((I say that as I'm not sure how this became common knowledge and what the official line is.)) is that, in addition to the closure of Kinloss, the battle for survival between bases would be between RAF Leuchars, Lossiemouth and Marham. RAF Marham is a base quite similar to Lossiemouth situated in East Anglia.
That decision, however, has not been forthcoming. The BBC posted an article back in November of 2010 titled "No RAF Lossiemouth decision 'until 2011'". Not only was the decision not made in "the new year", but The Courier reported earlier in 2011 that the decision wouldn't be announced until after the Scottish parliamentary elections in May, presumably so as not to influence the outcome ((Not that it stopped the SNP winning a massive victory…)). When May came, a final deadline was given for the announcement of the decision: the end of the parliamentary session, on 19th July. Now it's July, and news reports say that a decision was made last weekend, with the result expected to be announced within the next week – although it has been slightly delayed by the News of the World scandal.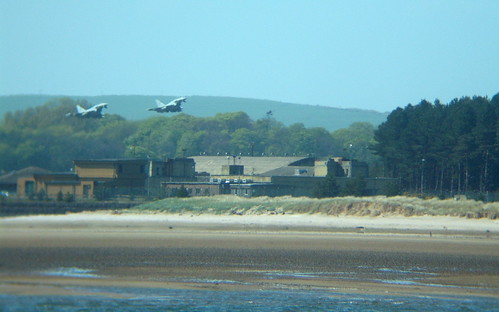 In further cuts in March, the government announced that XIII squadron and 14 squadron, operating Tornado GR4s at RAF Marham and RAF Lossiemouth respectively, would be disbanded, and a month or two later they stopped flying. "It will affect about 150 personnel but the MoD insists no final decision has been taken on closures", said the article. There are now 5 Tornado GR4 squadrons, down from 7.
The RAF also got rid of a third of trainee pilots and stopped recruiting any more.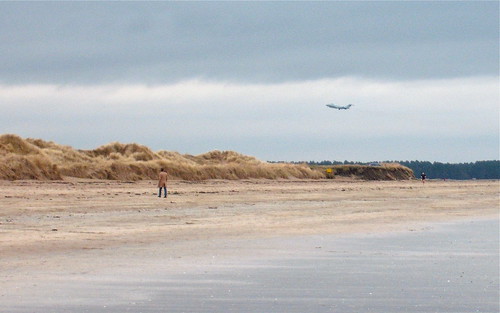 However, it's the issue of base closures, especially that of RAF Leuchars, which most concerns me at present.
I spend most of my time in close proximity to RAF Leuchars, and I enjoy watching the planes flying (and especially taking off) there. Of course I want it to remain an active RAF flying station. I'm not going to provide an unbiased opinion of why it should stay. Maybe it should be closed. In an ideal world there would be no need for a military and no need for a Royal Air Force, but there is no such thing.
To put the base's situation in context, let me give some history. RAF Leuchars has gone through a lot of change in recent years. It's been a fighter base for a long time, having flown Lightnings, Phantoms, Tornado F3s and now Typhoons in the last 40 or 50 years. Fighter jets are those which exist to intercept and destroy airborne targets such as other jets, rather than ground targets like bombers. QRA duty, the main responsibility of RAF Leuchars, requires fighter jets and is still the main task for RAF Leuchars.
When I arrived at St Andrews last September, the sole fighter squadron at Leuchars was 111 Squadron (pronounced 'treble one' squadron, commonly known as 'The Tremblers') which flew the Tornado F3 ((The fighter/interceptor variant of the Tornado, as opposed to the GR4 for ground attack.)) and it was due to disband in March 2011 – although it was a long-planned withdrawal of the Tornado F3 at the end of its life, not a result of the SDSR. The disbandment went ahead as planned ((I'll write about this and my sadness to see the F3s go another time.)). Leuchars' other two Tornado F3 squadrons had similarly disbanded in previous years.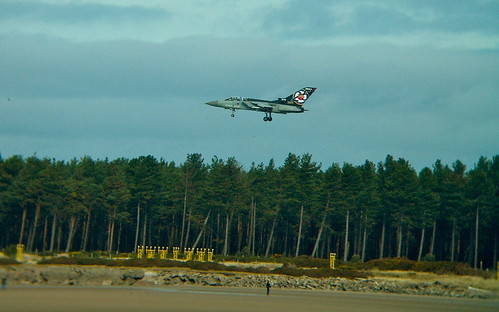 The replacement for the Tornado F3 was the new Eurofighter Typhoon ((OK, not that new.)), and the first Typhoon squadron for RAF Leuchars, 6 Squadron, arrived in October shortly after I started at St Andrews. For a while it co-existed with 111 Squadron, but since its disbandment 6 Squadron has been the only fighter squadron at Leuchars, performing QRA duty for the northern part of the UK. According to the RAF's website, 6 Squadron is only "the first of three Typhoon squadrons planned to be based at RAF Leuchars". Due to the SDSR however, can I really look forward to a brighter future for Leuchars as the RAF fully equips with Typhoons? Maybe those 2 other squadrons will never arrive.
RAF Leuchars is still at threat of closure.
I've been following the news about Leuchars and Lossiemouth, and I'm going to let you know what I like about the base and some of its strengths, and tell a bit of the story about the build-up to the imminent closure announcement.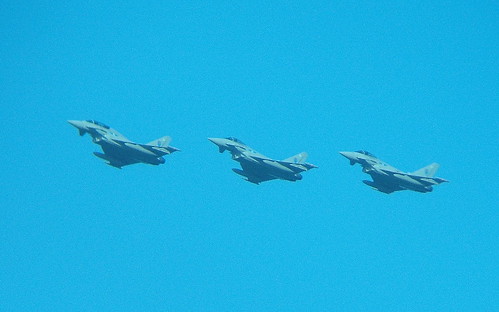 According to almost all of the rumours, one out of RAF Leuchars, Lossiemouth and Marham is expected to close. Please beware whilst reading this that the MOD and government have been very tight-lipped (officially) about the whole matter, but certain rumours (such as this one) are generally accepted as being true. Of course, nothing is for sure until the final decision is announced, and I'm not going to claim anything ridiculous.
Early on it became clear that RAF Marham was safe from closure, either for political reasons (the area is a Tory stronghold, making the government unlikely to close it) or more likely for economic reasons (with the costs to relocate Marham's assets too high).
The decision would be between Leuchars and Lossiemouth.
Moray too seemed safe, to me at least, as it had already lost RAF Kinloss to closure. It seemed unlikely that the RAF would further decimate the economy of the region by closing RAF Lossiemouth. What's more, RAF Lossiemouth is a much larger and widely-used air base than Leuchars. Leuchars, which has fewer staff and only 1 active squadron, could be fairly easily relocated the 100 or so miles north to Lossiemouth, I suppose ((Though I'm only guessing.)). It felt to me that saving Leuchars over Lossiemouth would be like Tesco closing an Extra store to save a Metro store – it's not going to happen when far more people use the Extra store, a store that is apparently far more capable.
And that's what I've been thinking for almost my whole first year at university. That Leuchars is in its final months. Recently, however, in this past week, rumours in the news and reflections on the base's utility have given me some slight hope that Leuchars will continue to be an RAF flying station, with one of the other bases closing instead – or even none at all.
I'd been intending to write about all these cutbacks previously, but thinking about it for too long was much too depressing to bother with. It felt like what always seems to happen when something fun and special enters your life ((For me here, getting to live close to an air base.)): it gets taken away as soon as you start to appreciate it ((OK, I might be going slightly over-the-top.)).
Now that I have that slight optimism I'm writing about it, still with a pre-announcement perspective. I'm going to dive straight in, using the 30 or so articles on the matters that I've saved over the past months as a guide.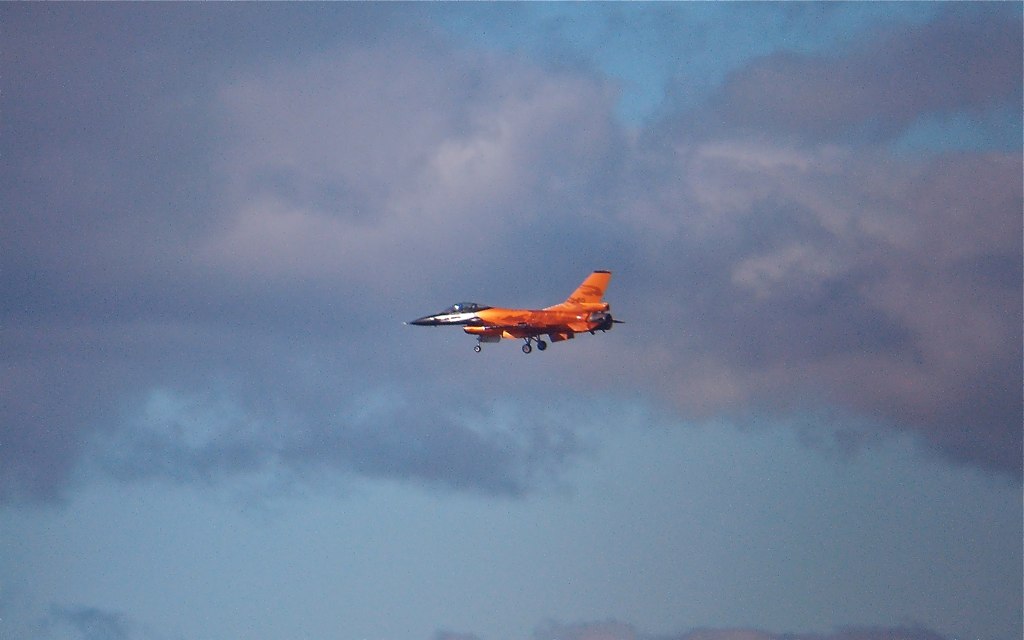 The initial news after the SDSR was published in October was very pessimistic and spelled bad news for Scotland. "New Fears For Future Of Lossiemouth After Suggestions Tornadoes Could Be Moved", said one article:
[Lossiemouth's] Tornado aircraft could be transferred to Norfolk.

The defence review, which earlier this week delivered the verdict on RAF Kinloss, also announced that another two RAF bases across Britain were no longer needed.

However, Mr Robertson said the document he saw seemed to suggest thinking at the Ministry of Defence was that the fleet would be "centralised" at RAF Marham, in Norfolk, by the end of next October. The document also suggested RAF Kinloss would be placed into "care and maintenance" as soon as March next year.
Note that the MOD was looking to close 2 bases, rather than the 1 that I had been assuming. I had forgotten about that and I'm not sure what the current official position is.
With no talk of Leuchars, this would move Lossiemouth's Tornado GR4s to Marham, leaving no need for the base.
The campaign to save Lossiemouth since has been loud and well organised, keen to see the base retained – with good reason, too. A base closure would be awful for any region, but especially for one as remote as Moray, with surely no possible way of replacing the £150m effect that the RAF has on the local economy – 16% of the total – and 5700 jobs from the 2 bases there. RAF Leuchars, if you're interested, contributes £60m or so to Fife, and 1900 jobs.
By December, the feeling among the media had changed, suggesting Lossiemouth would be retained after absorbing Leuchars. Such an article from the time is this one from the Telegraph, entitled "RAF Lossiemouth to be saved at expense of Leuchars", from which I will quote liberally:
After a significant public campaign to keep the Moray base open, the MoD has decided to rebase its Eurofighter Typoon fighters in Lossiemouth which will become Scotland's sole RAF airfield.
This is an important part of the situation too. Scotland has 3 RAF bases, Kinloss which is closed or closing, and Lossiemouth and Leuchars. Closing either of them would result in there being only one air base in Scotland, a country 60% as large England. Surely such a large area – much of it uninhabited – is the perfect place to locate planes and train pilots. The population of Scotland may only be 10% of that of England, and perhaps that is a proportional and fair number, but somehow I don't think so, judging by this Wikipedia entry. In any case, 1 air base for the whole of Scotland doesn't feel like enough.
The move will come as a blow to the air force and civilian personnel at Leuchars which was thought to have been safe from the axe as Typhoons had already deployed there.
With a brand new squadron just moving to the base, it felt like the base was safe and had a secure future. But despite recent investment in Leuchars – spending £3m since November on improvements to accommodate the new Typhoons – that's no guarantee from closure by the MOD. The runway has also been recently upgraded at a cost of £20m, or even £25m depending on who you believe.
But growing opposition to Lossiemouth's closure, with pressure coming from Scottish politicians and celebrities, led the MoD to reconsider its position, defence officials told The Daily Telegraph.
I really doubt whether a campaign by locals will have had any effect on the final decision whatsoever. And celebrities? Ha.
"The base has fought a ferocious public campaign and it also makes sense as it has better facilities for the Typhoon than Leuchars."

The Quick Reaction Alert jets, launched to deal with intruders into UK air space, will be moved to the base from Leuchars. Another factor in the Lossiemouth's favour was that its Tornado facilities would have been very expensive to move.
If true, these are good points in favour of Lossiemouth.
The decision was also prompted by economic concerns as the removal of the new Nimrod MR4 fleet means near RAF Kinloss will close with the loss of 2,300 jobs worth £68 million to the local economy.

The nearby base at Lossiemouth supports a further 3,370 jobs and contributes £90 million annually. Ministers feared that closing both would cause mass unemployment in the area.
This too is a relevant and serious concern.
However, RAF Leuchars, which has 1,400 RAF personnel, will be closed despite "last minute pleas" from Gordon Brown, the former Prime Minister, and Sir Menzies Campbell, the former Liberal Democrat leader and local MP.
Good news for Lossiemouth, it seems, means bad news for Leuchars.
There has been speculation it could be turned into an international airport to replace or work alongside the commercial one at Dundee as part of a review of the UK's military airbases.
Leuchars is certainly a larger and more flexible site than Dundee airport, but is there really a need for another large airport in Scotland, this far north, especially as Edinburgh is less than an hour away? How much money can rich golfers have, seriously?
Still, some aeroplane activity would be better than none from my perspective.
The decision also means that RAF Marham in Norfolk will remain open because it has the only RAF Tornado servicing facility.
This would explain why Marham is saved.
An MOD spokesman said: "The Strategic Defence and Security Review means that RAF Kinloss and two other bases will not be required by the RAF. No decisions have been made on which bases, or any future use."
It turned out that no such announcement as the article claimed was made, and the campaign to save Lossiemouth and the other bases continued ((Again, the MOD were still looking to close two bases. Maybe they still are.)). For me and I'm sure many other people, however, it felt like a done deal, and that such a decision was inevitable. The arguments seemed to make sense financially.
The uncertainty dragged on, and when it was announced that 13 and 14 squadrons would disband in March, it served to further confirm my thoughts. They wouldn't disband squadrons from a base if they were then going to close the base down completely a few months later, would they?
The news started saying that the closed base would be used to station army troops who are being moved back to the UK from Germany. Instead of hangars there would be barracks. This renders arguments to the economic impact of an RAF enclosure somewhat redundant: jobs would not be lost so much as changed (although how true this is, and how many jobs would be needed for the army, I have no idea).
Amid other worrying articles such as "Liam Fox's emphasis on Moray only adds to fears for RAF Leuchars", there was some more sensible news, such as "RAF Leuchars campaigners urge Westminster to takes its time on closure decision".
It seems that Westminster did take its time, only reaching a decision last weekend. And, what's more, it seems like that time has paid off for Leuchars, despite leaving thousands of people in a seemingly endless limbo. The word on the street now is that "RAF Leuchars soars ahead of rival Lossiemouth in battle for survival":
LEUCHARS could be saved as an RAF base after a late change of heart in the Ministry of Defence's review of its base closures.

It is understood that, while a final decision has yet to be taken, pro-Leuchars factions in the RAF have made the case that its closure would leave a strategic gap in the UK's defences.

"It works well with Coningsby (in Lincolnshire) with the Typhoons and, while they could go to Lossiemouth, the extra distance is a problem."

One of the reasons Leuchars had been favourite to close as an RAF base was because soldiers are due to quit Germany and move into disused RAF premises, and the army would prefer to move to Fife rather than Moray.

But the source said: "Fortunately, the army don't make the decisions."
This is, of course, by no means definitive, and it perhaps means absolutely nothing. Maybe even completely wrong. It's a load of 'coulds' and 'woulds', with few if any facts. Still, it got my hopes up, helped along by articles such as "Meeting with Michael Moore leaves Residents Action Force Leuchars spokesman buoyant" and "Prime Minister David Cameron's comments give hope for RAF Leuchars' future". The tide seems to be turning – or perhaps it is just desperation.
Further on in the article:
But SNP MP Angus Robertson, who represents Moray – which has already lost RAF Kinloss – said the strategic case for Lossiemouth has been acknowledged, with both an RAF and MoD departmental recommendation for retention.

He said: "In addition to the unbeatable strategic arguments, there is the unique key factor of unprecedented economic damage were there to be a second RAF base closure in Moray. No part of the UK is as defence-dependent as Moray, and a double closure would be unthinkable and totally unacceptable."

The RAF recommended late last year that Lossiemouth should kept in preference to Leuchars. One reason was the Moray base dovetailed better with the Norwegian air force in protecting the northern access routes.
So it probably was just desperation, on both my own and The Courier's part. That section seems totally damning of Leuchars, and yet, why had a decision still not been made until so longer afterwards? I'd like to see both Leuchars and Lossiemouth retained, but I don't foresee that happening.
And just for interest:
Originally, Leuchars was not included in the review, but concerns over Moray meant it became an option. A third option, RAF Marham in Norfolk, has been all but ruled out as it is too expensive to move engineering facilities. Now the pro-Leuchars case may prevail for strategic reasons and due to concerns by some in the RAF about the lack of infrastructure in Moray.

If Lossiemouth were to close, it would almost certainly be combined with Kinloss to house many of the troops coming back from Germany.
That explains why Leuchars was not seen as being at danger to begin with, then.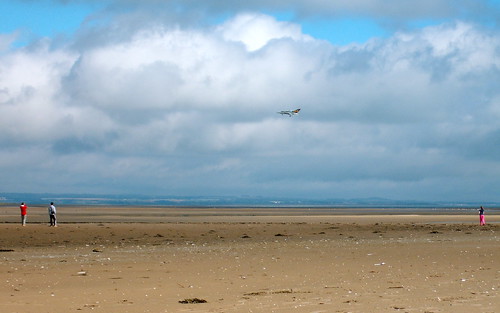 There are some particular points in favour of RAF Leuchars, specifically its location. Read this article in The Courier, entitled "Terrorist threat could see RAF Leuchars spared":
The ability of the Fife base to quickly intercept any 9/11-type airborne terrorist attacks could be key to securing the base's future. Fast jets could, for example, be at Grangemouth oil refinery in a matter of seconds. Typhoons from Leuchars could reach the Torness nuclear power station in under one and half minutes.

With RAF Lossiemouth in Moray also under threat, senior officials are thought to be attaching great significance to Leuchars' geographical advantage.

While campaigners insist both Scottish bases should be saved, it has been suggested the pendulum could be swinging in favour of Leuchars.

"The current terrorism threat facing the UK is severe," a source close to the UK Government told The Courier. "That means an attack is highly likely and thought is being given to the location of 'tier one' risk targets. Many of those in the northern half of Britain are within a very few minutes' flying time of Leuchars."
Also included is an interesting diagram which I recommend that you look at, showing the proximity of important northern locations to RAF Leuchars, and hence the effectiveness of the protection afforded by the station.
Lossiemouth is about 80 miles away from Leuchars, pretty much due north, and so it's much further away from most of the important places in Scotland. The diagram is not entirely honest – yes, a Typhoon could reach Edinburgh in 75 seconds if it was flying at full speed, but it takes quite a while for a jet to taxi to the end of the runway and take off and increase its speed. It doesn't reach Mach 2 instantly. A more accurate time would be perhaps 5 minutes after the first alarm.
One final, less important note, is the weather at RAF Leuchars. An article on Sir Menzies Campbell's website, entitled "Case for RAF Leuchars Bolstered by Fine Weather for Flying", states:
Figures released by the MOD to North East Fife MP Sir Menzies Campbell show that RAF Leuchars has one of the best records for available flying days among the UK bases.

Records for the last three years show that only 7 flying days were lost at RAF Leuchars which were due to adverse weather conditions. The average number of flying days lost at the RAF bases for which figures are available was around 25 per year.
Ming continues:
"Geographically, RAF Leuchars is in the ideal position. People living in Fife may be surprised to learn this but rainfall is on a par with the South East of England meaning visibility is very good for flying operations, and winters usually pass without significant snowfall. Added to this, RAF Leuchars' location means its aircraft can be overhead Edinburgh or Glasgow within a matter of minutes and also able to reach easily the population centres of northern England.
This is surprisingly true. St Andrews (and hence Leuchars) has some lovely weather, and most of the time too – except the wind can be annoying sometimes. Leuchars has more sunshine than Greenwich, according to the Met Office, and similar rainfall levels too. Available flying days are extremely important for an air defence station, such as Leuchars, which exists to scramble jets at any time of the day.
For further context, an STV article, "RAF Leuchars figures show base should be kept, says MP", says:
Since 2008 the Fife airbase has lost just seven flying days due solely to weather conditions.

Other UK air bases for which figures were available lost on average 25 flying days due to all factors. RAF Lossiemouth in Moray – also under threat – lost 21 flying days due to weather.
Leuchars is better than Lossiemouth then in this regard, then ((The '25 flying days' is unclear: one article says per year, the other implies since 2008. Oh well.)). It can reach targets faster and it can reach targets more often. Surely then, if the MOD is concerned primarily about defence, Leuchars is the base to keep with the RAF, and Lossiemouth would then serve as an army base for barracks.
Either Marham or Leuchars could take over the flying of Lossiemouth's Tornado GR4s. I for one would certainly welcome some more activity around my neck of the woods.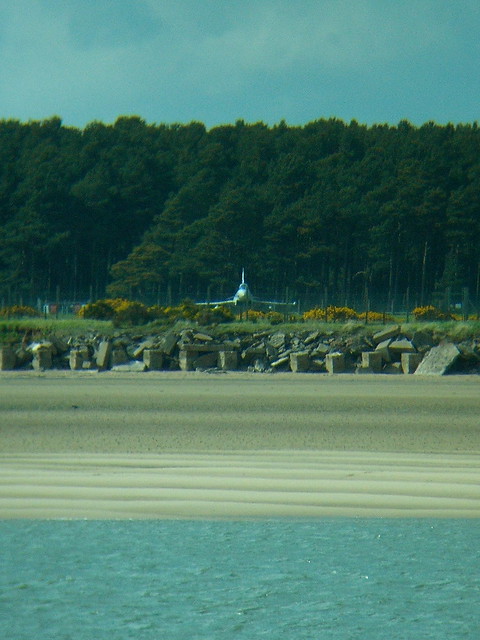 Overall though, I still expect this week that the government will announce that RAF Leuchars will be closed, with Marham and Lossiemouth remaining largely as they are, and Lossiemouth inheriting QRA duties. Leuchars would eventually be used to house army troops returning from Germany. Despite being a nice little base in a good location, working well and entertaining me, it just seems to be the way of the world.
I will be massively disappointed if that does happen. I love watching the jets in my spare time at St Andrews. They're just so cool. Loud and ferocious and impressive and inspiring. I sometimes feel that having an air force would be worth it even if there were never any more wars, just because of how awesome they are to watch, and to display our technology. How expensive can it be, anyway?
I've been able to enjoy it for a year, at least. I'll always have that. I just hope for more.